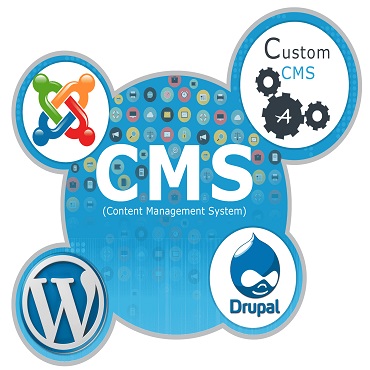 Joomla vs Drupal vs WordPress
Content Management Systems (CMS) are online applications that enable the real-time modification of a website's content. Administrators can update the CMS via the internet, with the system residing on a server. These changes are automatically accessible to all visitors and users of the website.
**WordPress:** WordPress is free and open-source blogging software and publishing platform, written in PHP and MySQL. It is frequently customized for use as a Content Management System (CMS). It offers numerous features, including an architecture for additional functions and a template system. WordPress is used on more than 14% of the top 1,000,000 websites. It started as a platform exclusively for blogging but has expanded significantly in recent years.
**Joomla:** Joomla! is a free and open-source Content Management System (CMS). It is used for publishing content on the World Wide Web and intranets. It is written in PHP and stores data in a MySQL database. Joomla! creates dynamic pages, generating them when requested. It uses a server system, such as Apache, to receive user requests, fetch data from the database, format it, and send it to the user's web browser. Joomla! has additional display features such as caching, RSS feeds, printable versions of pages, news flashes, blogs, polls, and more.
**Drupal:** Drupal is an open-source Content Management System (CMS) written in PHP. Like many modern CMS, Drupal allows the system administrator to organize the content, customize presentation, automate administrative tasks, and manage visitors and contributors. Although it offers a complex programming interface, most tasks can be accomplished with little or no programming. Drupal is sometimes described as a "web application framework," as its capabilities extend beyond content management, allowing a wide range of services and transactions.